Star Wars Extraordinaire : Jackson, Michigan Star Wars senior portrait session
Dusti's mom contacted me in early 2022 about her daughter's senior portraits.  She loved the outdoors, they wanted photos at her aunt's house that had a lovely manicured yard, and her uncle's old car…and they wanted to incorporate Dusti's passion for all things Star Wars. 

Now, when thinking of Star Wars, you of course think of Yoda, the Millenium Falcon, the Stormtroopers, the Resistance, and the light sabers. Duh!! While I'm not ultra fabulous at taking someone and dropping them into a scene in photoshop, I'm pretty good with people portraits and love learning new techniques with the camera. Dusti happened to have two lightsabers, a Resistance cosplay outfit from Disney World, and I had a pitch black studio to get some fun light trails. 
I was SO nervous for this session, I planned and practiced for WEEKS trying to make sure I had the right settings and the right lighting for maximum effect.  PS**When I say I put my everything into a session to give your senior a great experience, I truly mean it!!  I want your photos to be EPIC and to TRULY capture your kid's passions. Even if that means I'm taking additional time to learn a new technique JUST for a session.** 
We begin with a black room to avoid any unwanted light leaks. I have the camera set up with a tripod tethered to my phone to avoid any camera shake during the image capture process.  I had my settings started off at about a 2 second long exposure while Dusti waved the light saber, just to see how much time we actually needed for her movements. My f/stop was about f/4 to give us a little more focus field with having a moving subject.  
Next came the lighting to illuminate Dusti.  I began with 1-2 lights. One in a softbox on the subject (Dusti) as the main light, and a second light that I would either aim at the background with a color gel or at the back of Dusti's head, or even would have off. I would have to make sure the power was pretty low and to aim the light at Dusti, but have it turned to the side enough that it wouldn't bleed onto the backdrop too much. Remember, we wanted to keep it pretty dark to show off the lightsaber light trails. (I told you, I had to plan and practice so much to get the right combination of light and dark, motion and freeze).
Lastly, simple trial and error!  We spent over an hour doing different motions, poses, and colors to make sure that we not only had good variety, but showed the full dynamic range of this portion of her session!  I think we did phenomenal.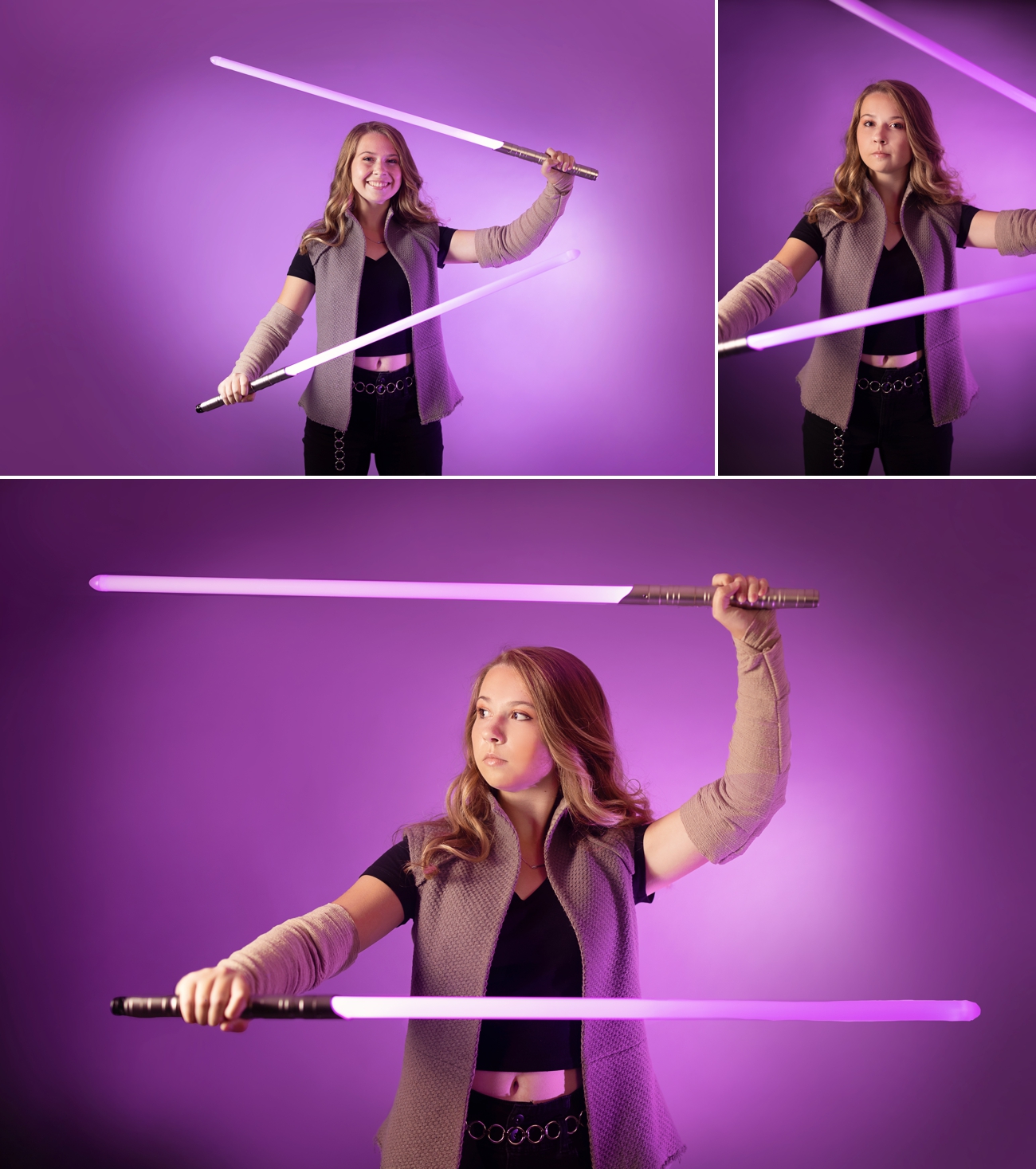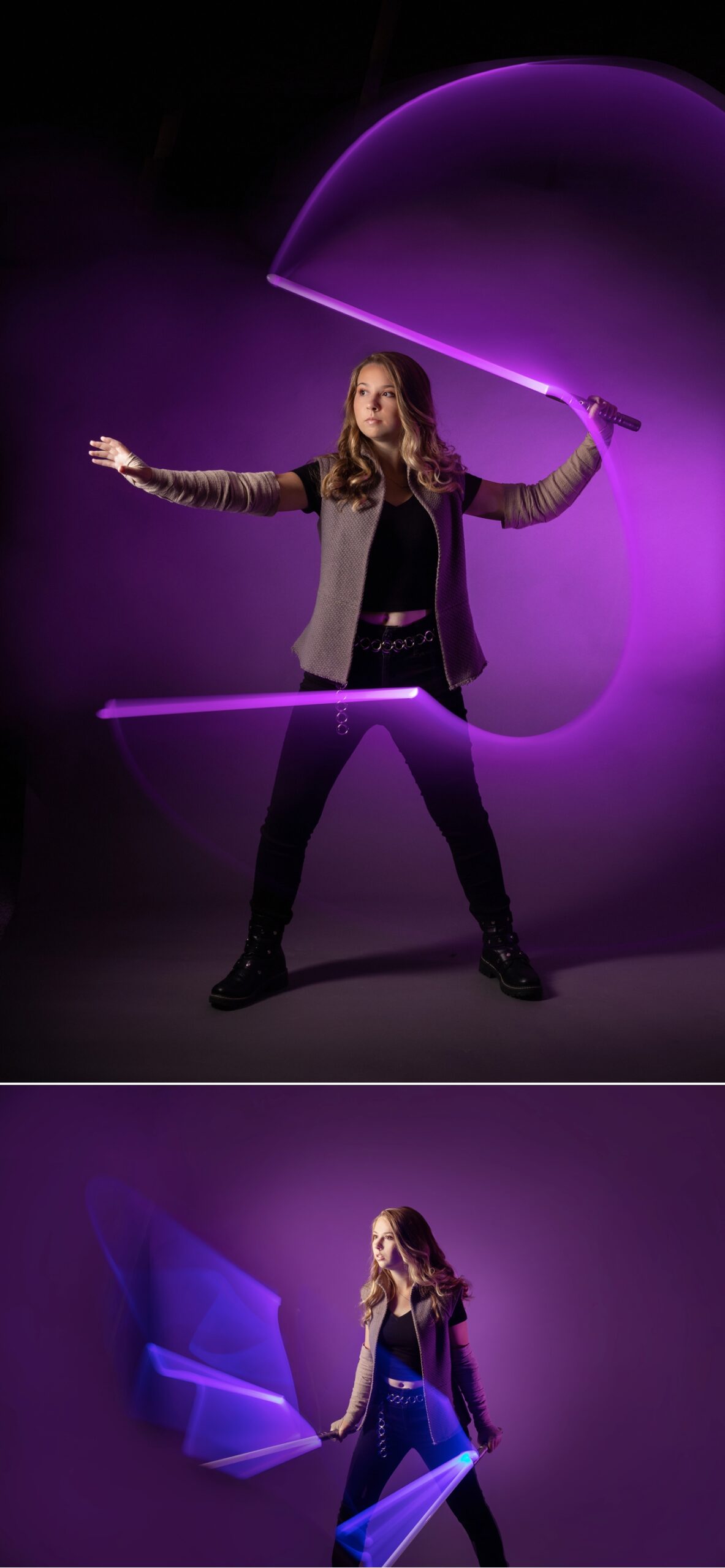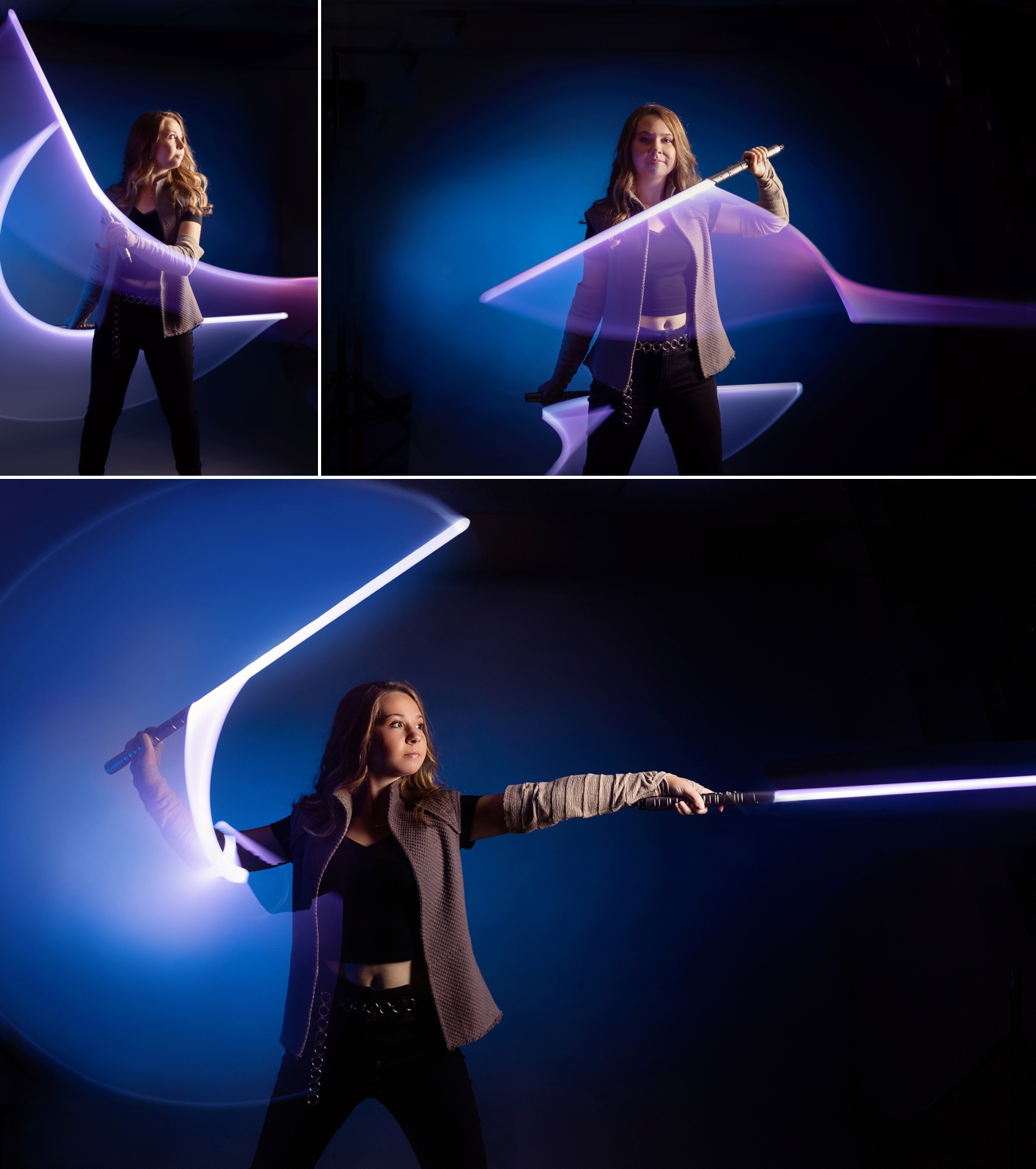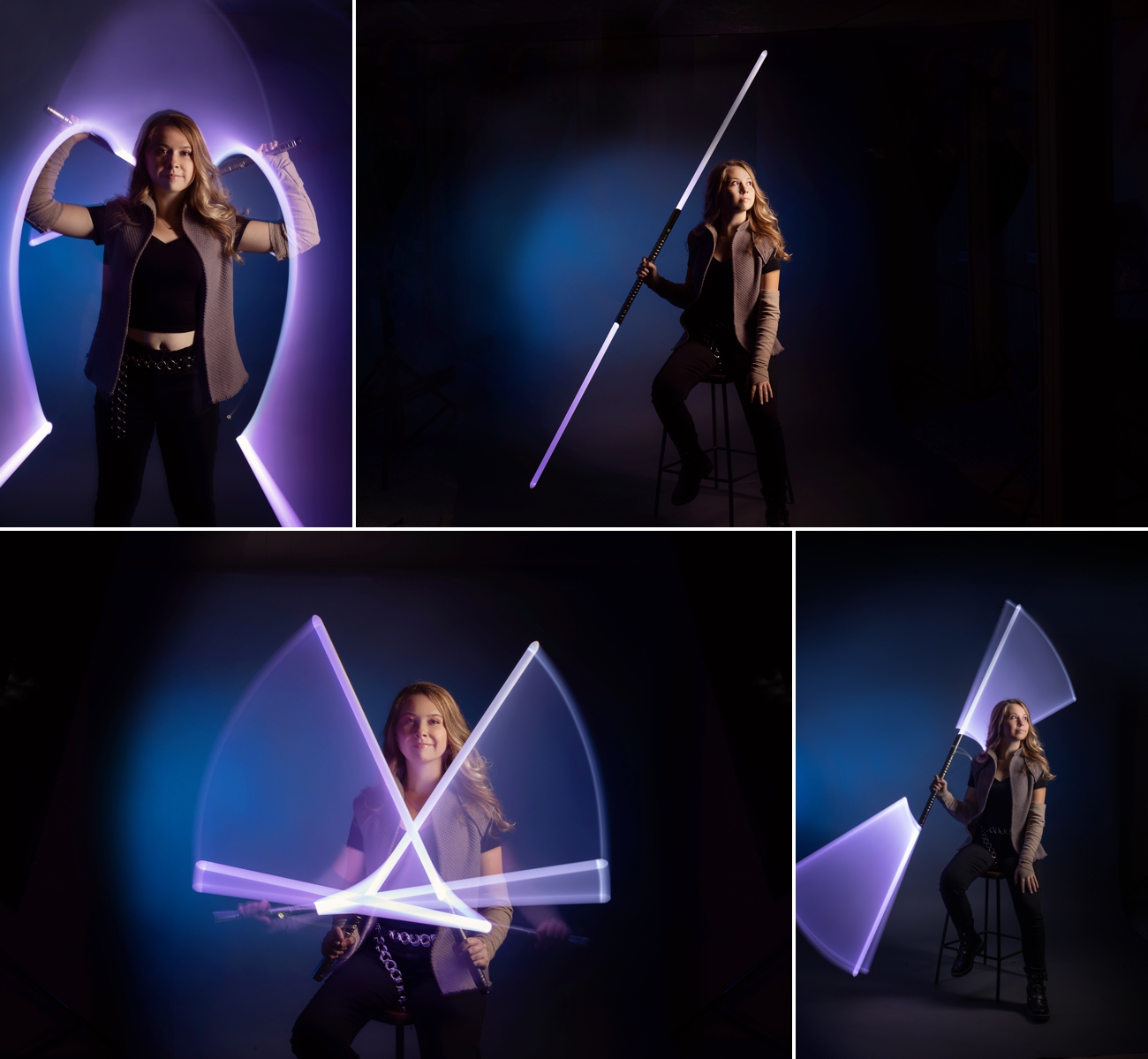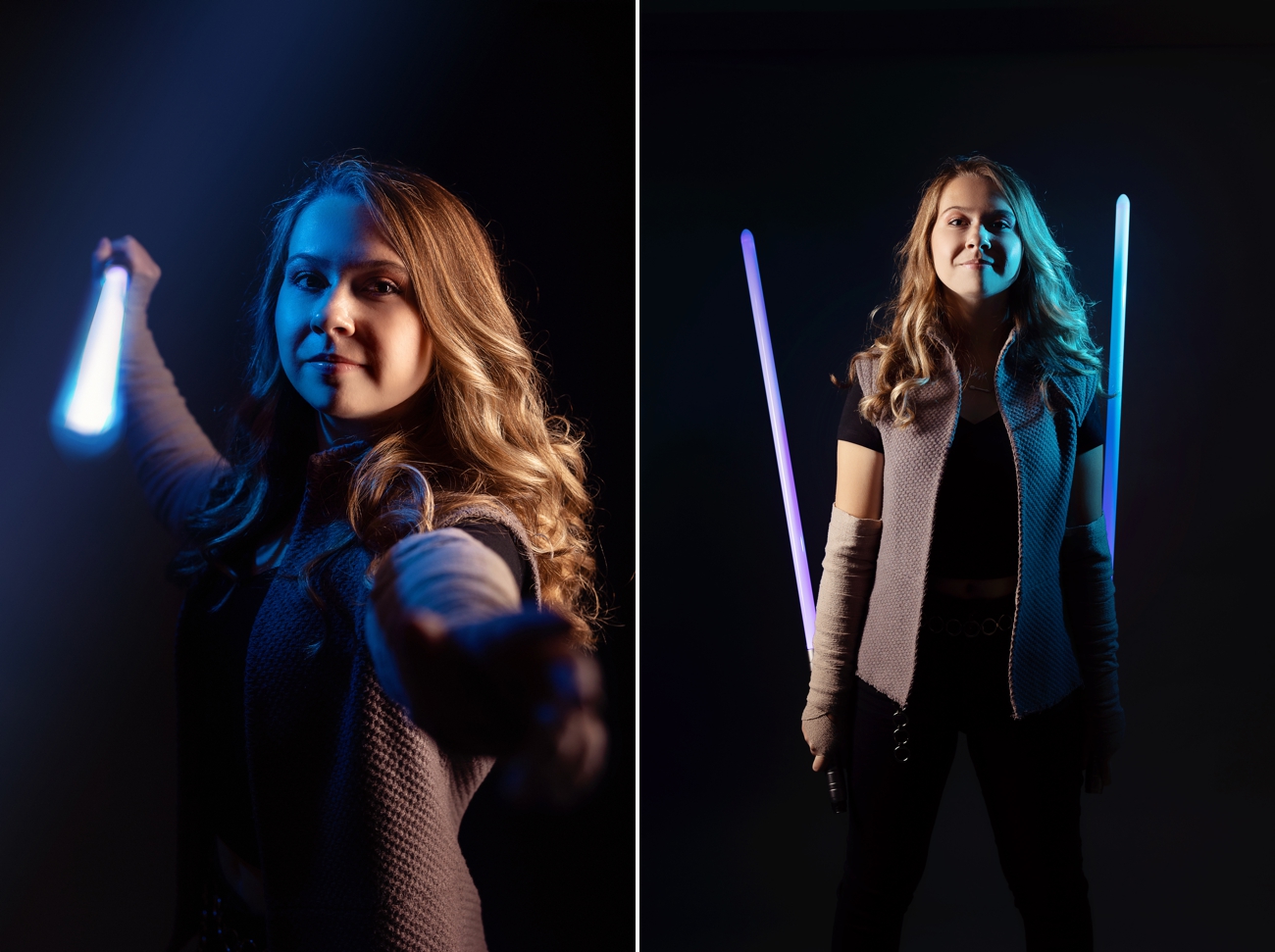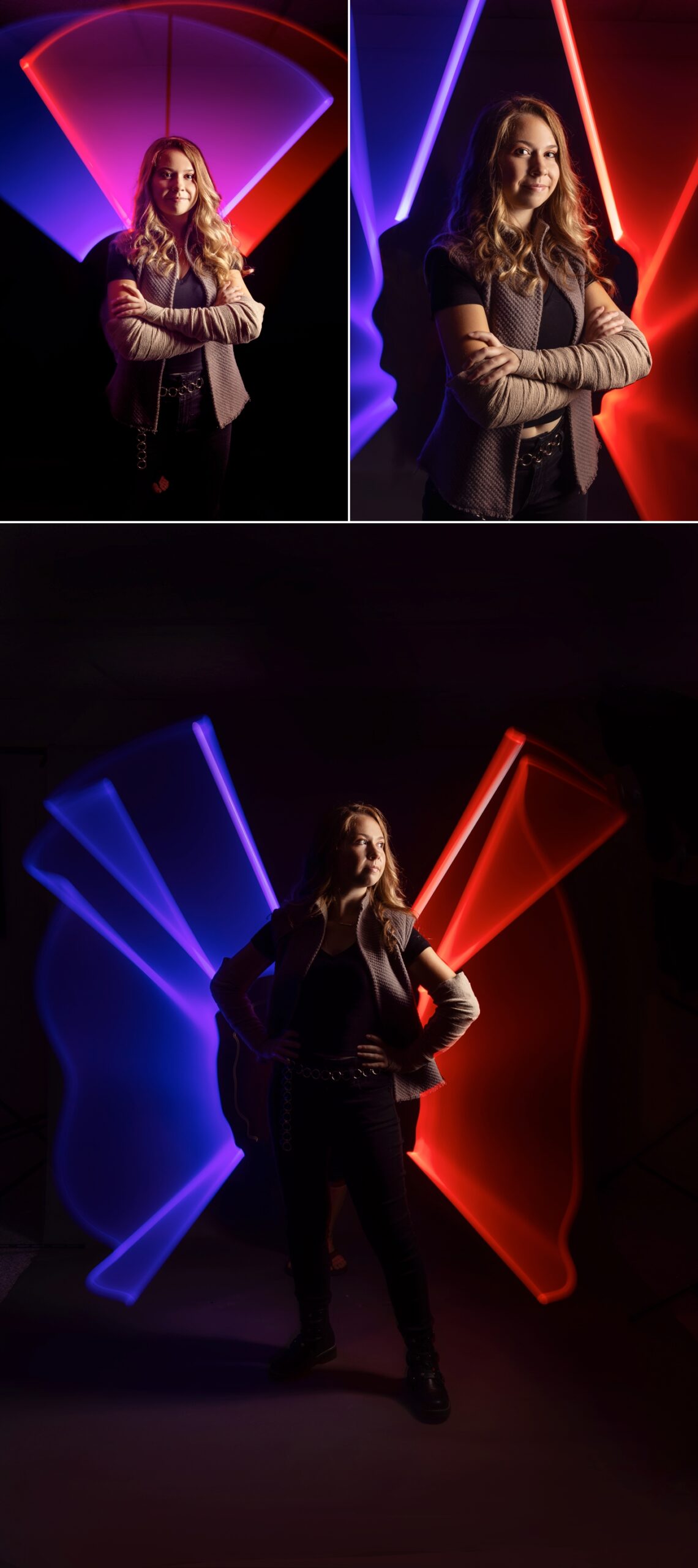 The rest of her session was held at a relative's home and it had the perfect warm sun-kissed glow of a summer evening. We played in the weeds, in bushes, We even got to take some photos with her uncle's classic car! 

All around, a perfect session encompassing the things that Dusti loved, her family and Star Wars!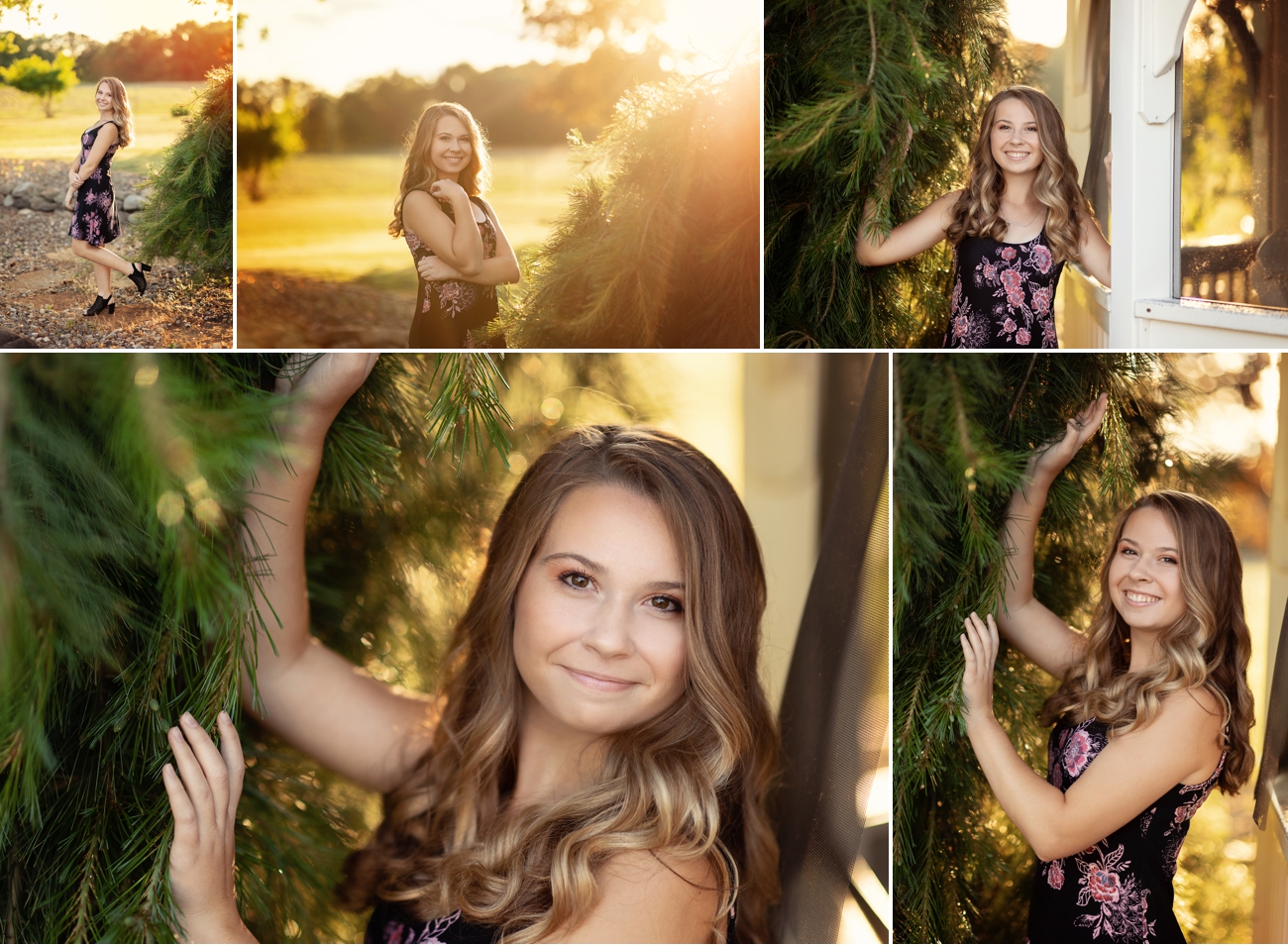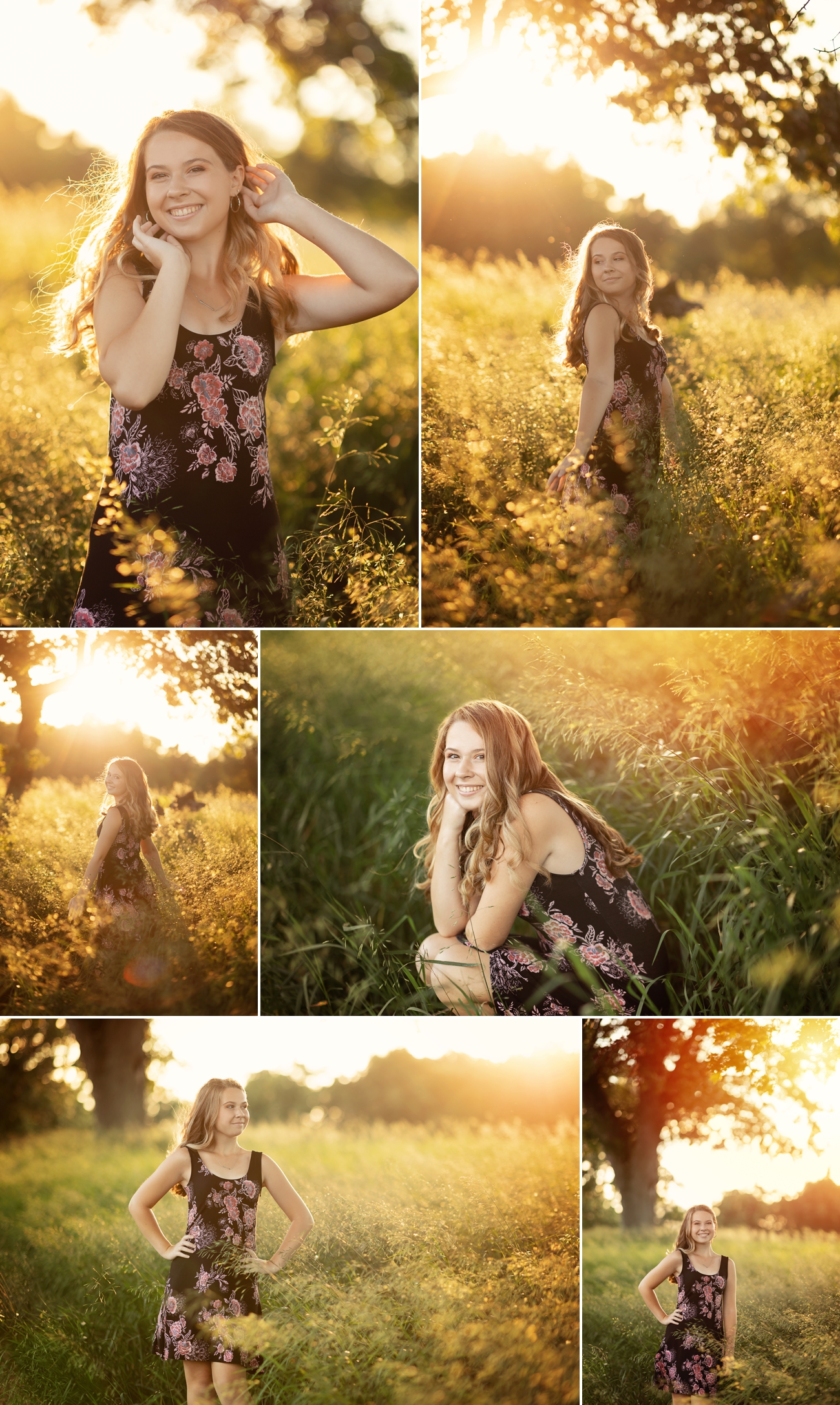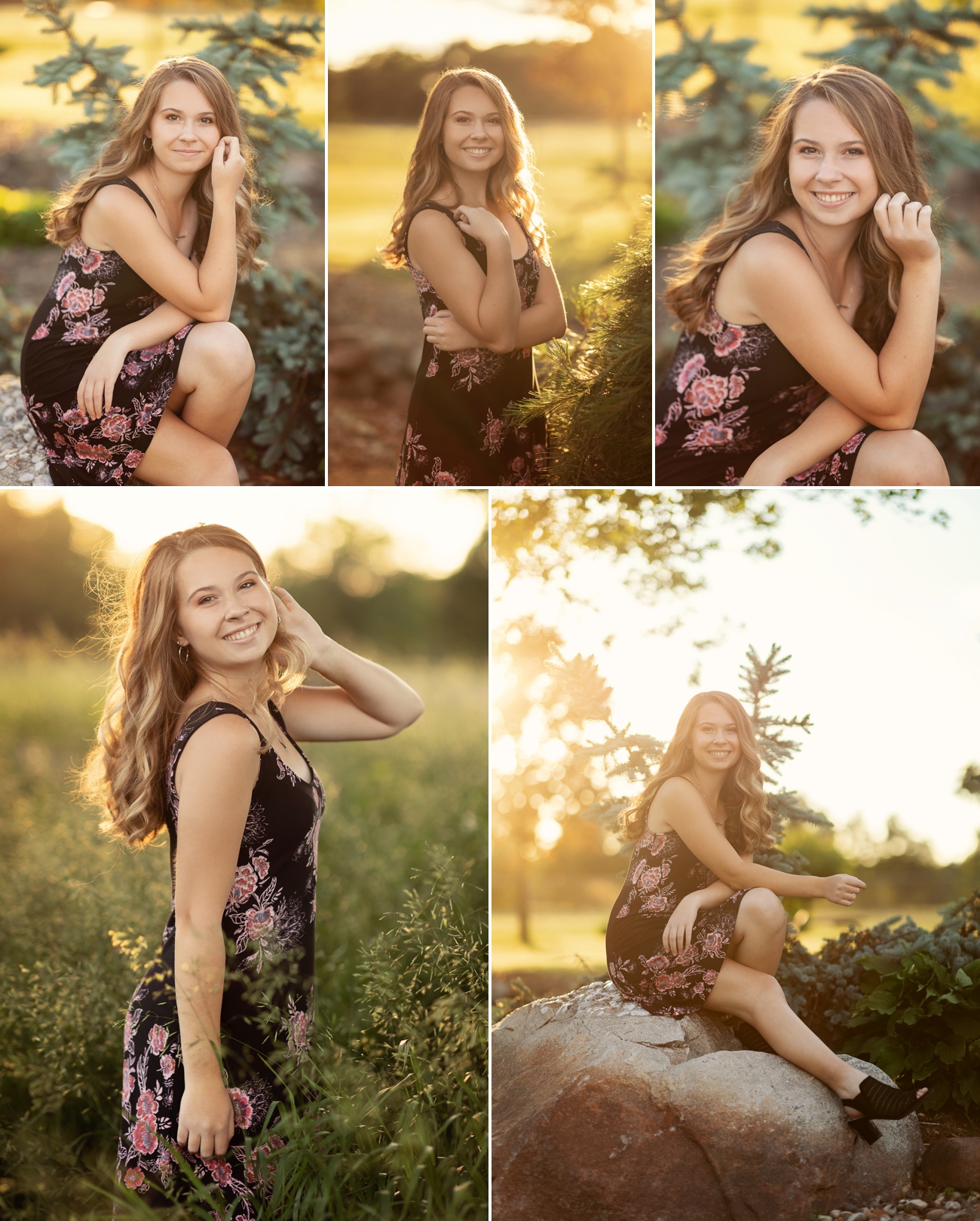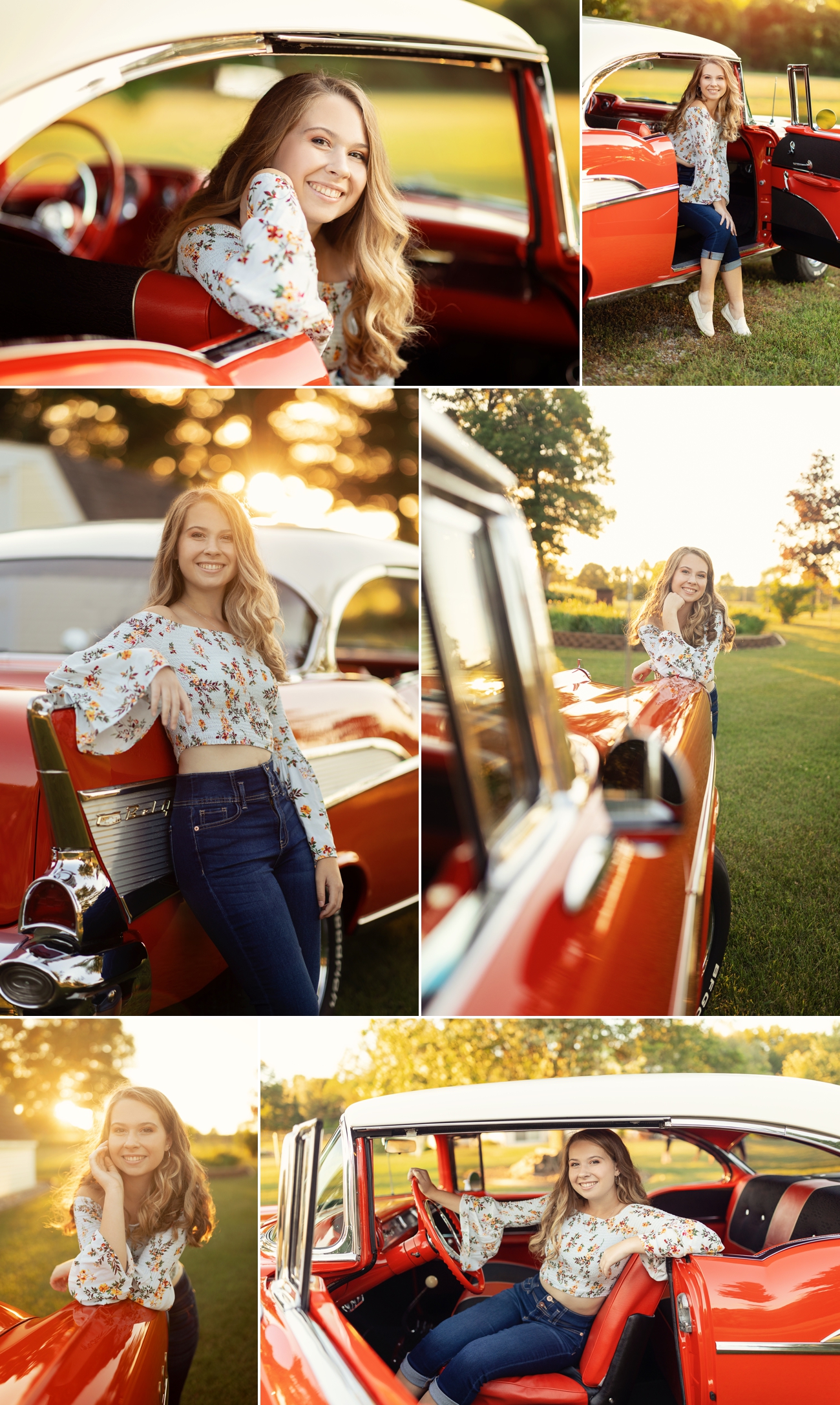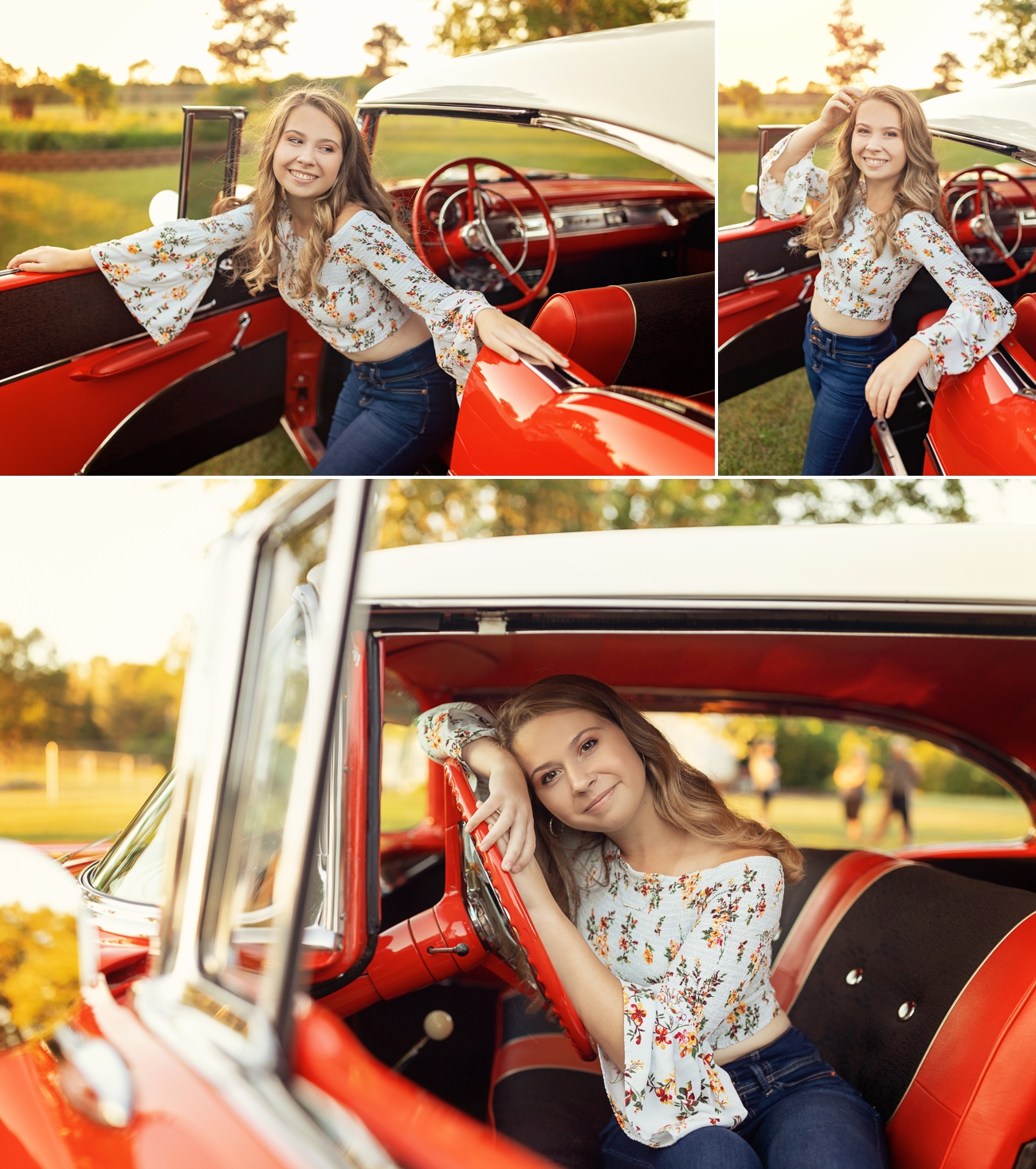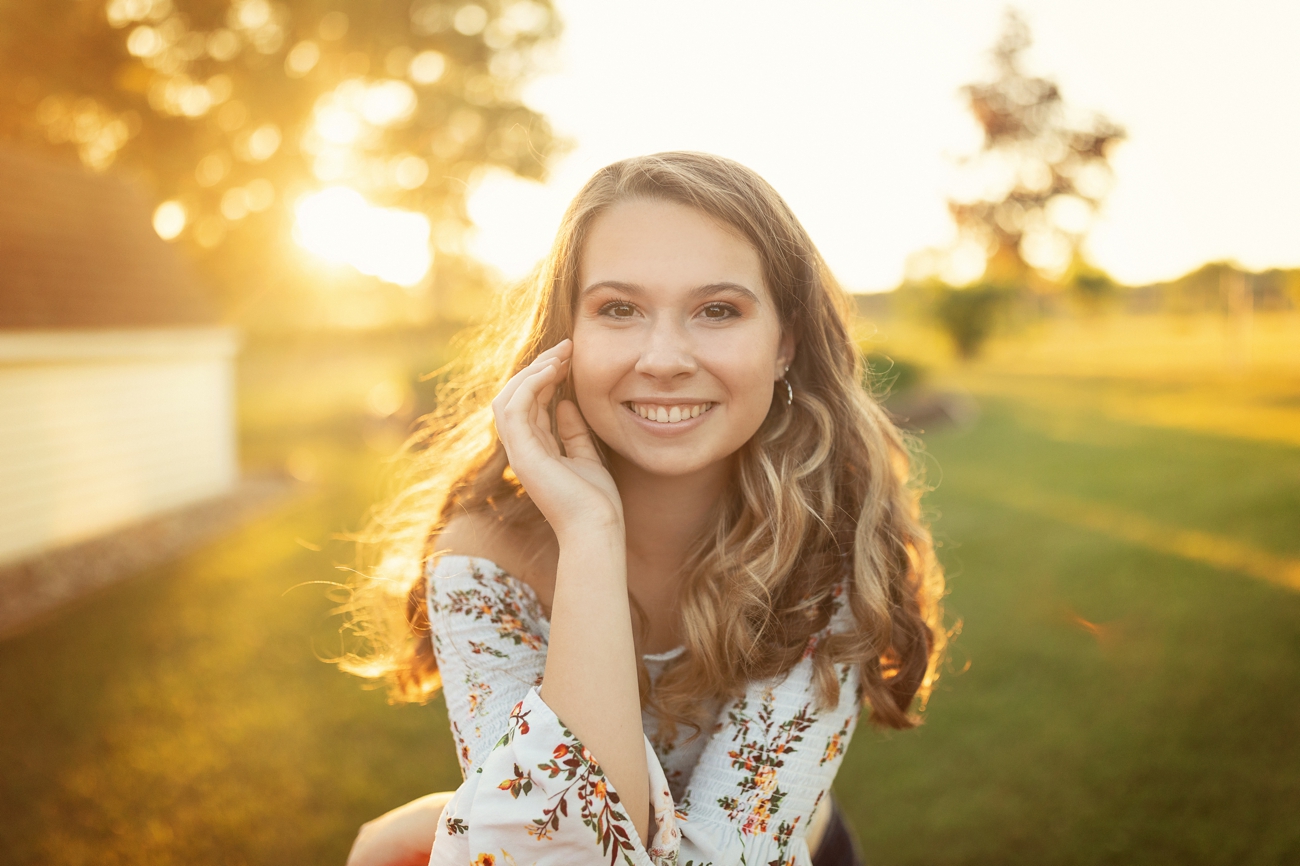 Ready to book your own epic senior portrait session?  
Click through my website – the ABOUT  page walks you through the senior portrait experience step by step to make sure we're a great fit for one another. 
The INVESTMENT page will show off three collections to choose from to find the best session for you. 
Finally, land on that CONTACT page and let's book your very own senior session!!  We'll chat about what you're interested in, sports you play, what you'd like to have incorporated and how we'll make it happen!!